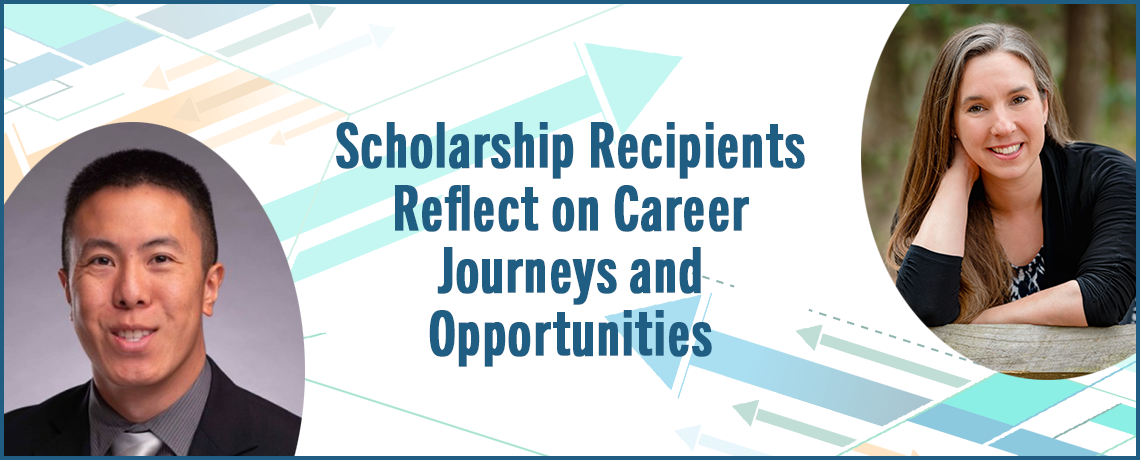 Since 2010, the NBCC Foundation has awarded over $875,000 in scholarships to master's-level counseling students committed to working with military or rural populations after graduation from their program. To expand the reach of the Foundation's efforts and to help counseling professionals attain more education and training, the Foundation in collaboration with the Center for Credentialing & Education (CCE) began providing a variety of scholarships and professional training awards in 2012 to counseling professionals around the world. The first of these CCE scholarships was for a master's-level counseling student pursuing the Global Career Development Facilitator (GCDF) credential.

The CCE Scholarship Program, in collaboration with the NBCC Foundation, has grown over the past 10 years to provide a total of over $161,000 in awards to assist counseling professionals in attaining several other CCE credentials and to support and increase their ongoing professional development and continuing education opportunities.

The 2021 application period is currently open for NBCC Foundation military, rural, and research scholarships as well as for the CCE funded scholarships and professional training awards.

Hear from some past recipients on how these awards have helped them on their educational or professional journey.
Keith Sun, MA, GCDF –2018 Global Career Development Facilitator (GCDF) Scholarship Recipient
Keith Sun, a 2018 recipient of the GCDF scholarship, currently works as Assistant Director of Career Development & Placement at the Carl H. Linder College of Business at the University of Cincinnati. He earned his MA in clinical mental health counseling from Regent University and is currently completing his MBA. In his position, he manages a caseload of nearly 700 business students per year and works to help them ultimately obtain job placement after graduation. This involves ongoing coaching, training, teaching, and counseling students alongside continual outreach to employers and partner organizations. As a member of the career services team, he also works to plan and execute large-scale hiring events as well as successful digital marketing campaigns, which have become especially crucial during the past year as they experienced more widespread remote learning and interaction with students and employers.

Sun also shares that early into the COVID-19 pandemic he began utilizing his counseling skills more with students than before as many faced job cuts from temporary or internship-based positions as well as other ongoing challenges brought on by personal, educational, and professional disruptions caused by the pandemic. Though the past year and a half has brought with it many obstacles, his passion for students and helping them achieve their career goals and aspirations inspires him to continue teaching, counseling, and coaching his diverse clientele.

The pandemic has also not slowed his desire to write and contribute to his larger professional field. He recently wrote and had two pieces of work published for the journal and blog of the National Association of Colleges & Employers (NACE). His journal article, co-authored with career services staff at the University of Cincinnati, focuses on the outcomes of a "Career Success Strategies" course designed for freshman and university transfer students titled "Creating and Improving a Career Success Strategies Course for Undergraduate Business Students: An Analysis of Outcomes and Future Directions."

His most recent publication, authored in January 2021, shares his perspective as a second-generation Chinese-American professional working to further career advancement for students who are too often overlooked or discouraged in their places of work or in leadership opportunities. His piece, "Career Opportunities and Barriers: An Asian-American Perspective," can be found on the NACE blog.

Throughout his time at the University of Cincinnati, Sun has received recognition and multiple distinctions for campus and college-wide leadership shown by a staff member as well as for contributing to the overall vision of the college and campus.

He was also recently awarded the 2021 Rising Star Award from NACE. This recognition is given to "a career services professional early in their career who demonstrates strong leadership potential and innovative contributions to the career services profession and NACE."

Sun shares that earning the NBCC Foundation GCDF scholarship and pursuing his GCDF credential "has definitely helped me make a greater, positive impact on students and prepared me to be a rising thought leader for career services practitioners at universities across the country."

Sun hopes to continue providing a safe and transformational space for students to find their path and obtain essential training and skills to lead them to become successful leaders in their fields. He also has plans to earn the Board Certified Coach credential, offered through the Center for Credentialing & Education, to further support his existing coaching skills and expand his professional identity as a coach.

For more information on the GCDF Domestic and International scholarship opportunities as well as other NBCC Foundation scholarships and professional training awards, visit nbccf.org/programs/scholarships.
Jennifer Mitchell, MA, NCC, LPCA – 2018 NBCC Foundation Military Scholar
Jennifer Mitchell is a 2020 graduate of Columbia International University (CIU) earning an MA in counseling. She is also a 2018 recipient of the NBCC Foundation military scholarship. The NBCC Foundation military scholarship is awarded to service members, veterans, or their spouses who are pursuing a counseling education and commit to serving fellow military personnel, veterans, and families upon graduation.

During her own journey as a military spouse, Mitchell found overwhelmingly that military service members and their families could benefit from counseling in all spaces and during all parts of their journey. She also shares that it was her mother who encouraged her to pursue this path before she passed. Throughout her coursework and clinical experience, Mitchell became particularly interested in working with those experiencing PTSD.

While an NBCC Foundation military scholar, Mitchell identified multiple goals to achieve during her program year and beyond. She participated in a variety of continuing education webinars and trainings about licensure portability as well as mental health care trends in military populations. She also worked in her practicum placement location to co-lead their military PTSD group counseling sessions as well as develop curriculum specifically for those dealing with PTSD. When asked after her scholarship program year about one of the moments that stood out most to her, she shared that it was while working in her practicum placement with servicemembers and watching healing occur for those with PTSD as they found the courage to face their traumatic stories and experiences.

Since receiving her NBCC Foundation military scholarship, Mitchell became an LPCA and a National Certified Counselor through NBCC. She currently works as an academic success coach and adjunct faculty member at CIU and as a volunteer LPCA at the USAG Rheinland-Pfalz Chaplain Family Life Center in Germany, where she provides individual counseling as clients are referred by their chaplains. This opportunity came about after she and her family moved during the middle of 2020 to Germany, where her husband serves as a military chaplain.

When asked how an overseas move during the pandemic compared to previous moves, she shares that it had an enormous impact on how they made connections with their community, especially for her children. This led to feelings of isolation that they felt along with many others in their surrounding military community who were navigating school, family dynamics and relationships, as well as being separated not only by distance and time but also often by poor internet access and resources to communicate with family in the United States.

She said that despite these challenges, she has seen mental health care providers in these military spaces work incredibly hard to address the needs of their communities. The numerous waves of lockdown for them during the pandemic led to many creative resources from providers offering telehealth and virtual group, community, and spousal support meetings. She also recognizes that not everyone's needs could be met, and some families had to return stateside to get the resources they and especially their children needed.

As Mitchell works toward obtaining her LPC, she continues to bridge gaps in systems she experiences while helping military personnel and their families and working to support undergraduate and graduate students she works with at CIU. She is also the mother of four children whom she supports while part of their family is overseas, and part remained in the United States after their most recent move upon her husband's latest assignment overseas.

She shares that she is incredibly grateful for the opportunities provided by the military scholarship not only for the financial benefit to a military family with one parent in full-time school but also for the connection to other learning opportunities and growth that came from establishing goals and connecting with other past military scholars and clinicians serving this unique population.

Mitchell writes, "Receiving the NBCC Foundation scholarship, obtaining my degree, and recent experiences [providing] services to service members and their families have all impacted me in my journey as a clinician as I am walking this same road of the unknowns with fellow service members' families. When I see another walking away to one of those lonely quiet corners, I feel that I now have more resources to lean upon as well as offer those who are yearning for help. I know that I am not walking this road alone, but that I have the resources and relationships formed while receiving training that are still present and available to me now as I am practicing. I can lean into these relationships for guidance and encouragement and find support to keep pressing forward knowing together we can face challenges which would otherwise overrun."

For more information on the NBCC Foundation military scholarship opportunity as well as other NBCC Foundation scholarships and professional training awards, visit nbccf.org/programs/scholarships.
---
Share On Social Media:
---
Read more articles