 SACES Conference Highlights Leadership of Foundation Awardees
Published 11/15/2022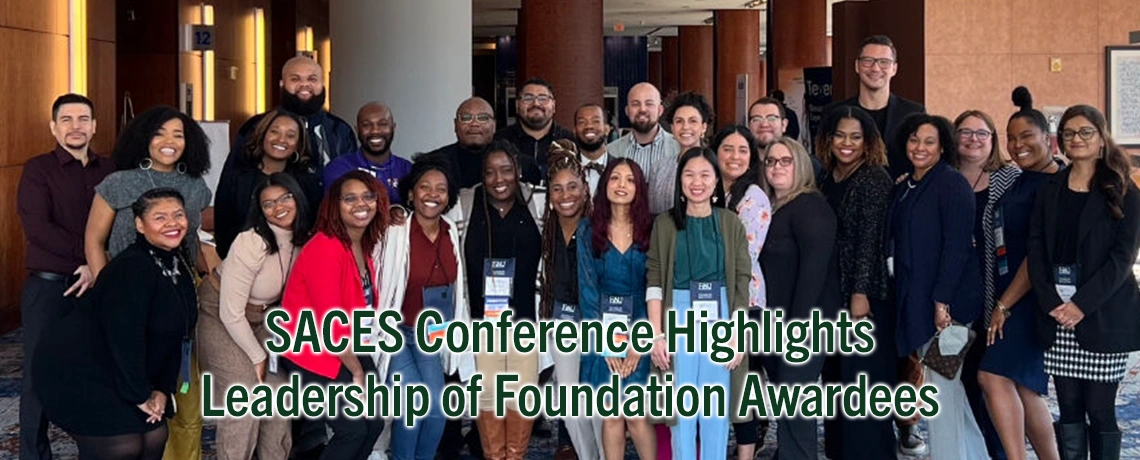 Each year, the NBCC Foundation sends its Minority Fellowship Program (MFP) cohorts to counseling conferences or trainings in order to provide the fellows with additional learning, professional development, and networking opportunities. Recently, the 2022 MFP doctoral fellows attended the biennial Southern Association for Counselor Education and Supervision (SACES) conference in Baltimore, Maryland.

The conference consisted of 3 full days of engagement and growth for these fellows, who are all currently pursuing PhDs in counselor education and supervision at universities across the country. The fellows were welcomed to the conference by SACES President-elect Dr. Michael Jones, a member of the inaugural NBCC MFP Doctoral Fellow cohort, who spiritedly refer to themselves as "The Dream Team." While reflecting on his own journey as a doctoral student and MFP Fellow, Dr. Jones challenged the fellows to get the most they can from both the fellowship and their time at SACES.

After the brief welcome, the fellows dove into their weekend with a specialized training led by MFP alum, assistant professor of clinical counseling and mental health at Texas Tech University, and current NBCC Foundation Board Trustee, Dr. Christopher Townsend, who spoke to the fellows about current issues facing counselor education, including addressing social justice and equity within the field.

Dr. Nedeljko Golubovic, assistant professor in the clinical mental health counseling program at the University of San Diego, led a training and discussion on the leadership structure of counselor education programs and opportunities that the fellows can pursue after completing their doctoral programs.

With nearly half of this year's 23-member doctoral cohort also attending as workshop or poster presenters or as leaders of roundtable discussion sessions, they continually prove to be passionate advocates, thought leaders, and innovators in their fields.

Current fellow and student at the University of Holy Cross Jamal Boudion, who was also attending his first SACES conference, delivered a presentation with his current dissertation chair, Dr. Ted Remley, and colleague, Dr. Lisa Surrency, on the topic of "Staying Legal in the Virtual World of Counseling, Supervision, and Counselor Education." Jamal shared that this topic continues to be relevant for counselors and counselor educators because of the ever-changing world around us and the rapid growth and need for virtual counseling services to better reach clients. He emphasizes that it is essential for counselors and counselor educators to stay abreast of the laws and ethics that come into play with virtual services.

University of North Texas students and current doctoral fellows Hailey Morris-Smith and Rebecca Werts also presented, along with master's student, Alexcea Baggett, about "Supporting the Professional Development of Black Master's Students in Counselor Education Programs."

With Hailey focusing her research agenda on professional identity development and mentorship for Black master's students in counselor education programs, Rebecca, as a classmate and cohort member, shared that she was honored to join Hailey and Alexcea to share on this topic. For Rebecca, her interest in the topic is personal. She reflects that she wished she had more opportunities sooner for mentorship and development as a master's counseling student also navigating the identity of being a first-generation student.

Other current doctoral fellows presented on research and topics such as antiracist school counselor preparation, COVID-19 impacts on gatekeeping in counselor education, self-efficacy among counselors-in-training, challenges educators face in teaching multicultural counseling courses, and promoting student wellness among doctoral counselor cohorts through multicultural conversations.

Afroze Shaikh, a current fellow at Georgia State University, was named a SACES 2022–2024 Emerging Leader and recognized during the awards ceremony held during the conference. As an emerging leader, she will engage in service through SACES committees and interest networks as well as promote SACES goals focused on advocacy and client equity and well-being.

Over the years, NBCC MFP Fellows and Foundation Scholars have continued to provide leadership in the counselor education space. At this year's SACES conference alone, over 30 current and alumni MFP Fellows and Foundation scholars presented workshops or roundtable discussions with many others serving in leadership positions and presenting at conferences for their home regional Association for Counselor Education and Supervision (ACES) divisions.

When asked, alumni and current MFP Fellows and Foundation Scholars overwhelmingly point to their experiences in the program as being a crucial part of their journey because of the amount of support they receive from their cohort, alumni, and other networks they often find through the Foundation.

Rebecca shares that her experience as an MFP Fellow was "a breath of fresh air." She says that she feels "seen, validated, supported and liberated to be myself."

Jamal noted that being a part of the MFP has been "the best experience of my life. From meeting new people, making lifelong connections, receiving wonderful advice, and seeing so many successful people, especially people of color, has given me a feeling of joy that cannot go away." He went on to say that he's still soaking in a lot from the conference but after his time at SACES, getting to bond with his cohort, and meeting so many advocates and examples in the profession, he is "no longer feeling inadequate or imposter syndrome; instead, I am realizing that I am right where I belong."

MFP Fellowship and NBCC Foundation Scholarship award opportunities are currently available for master's- and doctoral-level counseling students committed to working with underserved and underrepresented communities after graduation. Awards include financial support for students' education in addition to funded opportunities to attend conferences alongside their cohort to provide professional development and training opportunities.
For more information about specific award amounts and eligibility, visit our website.
The deadline to submit an application for all 2023 NBCC MFP and Foundation Scholarships is Dec. 31, 2022.