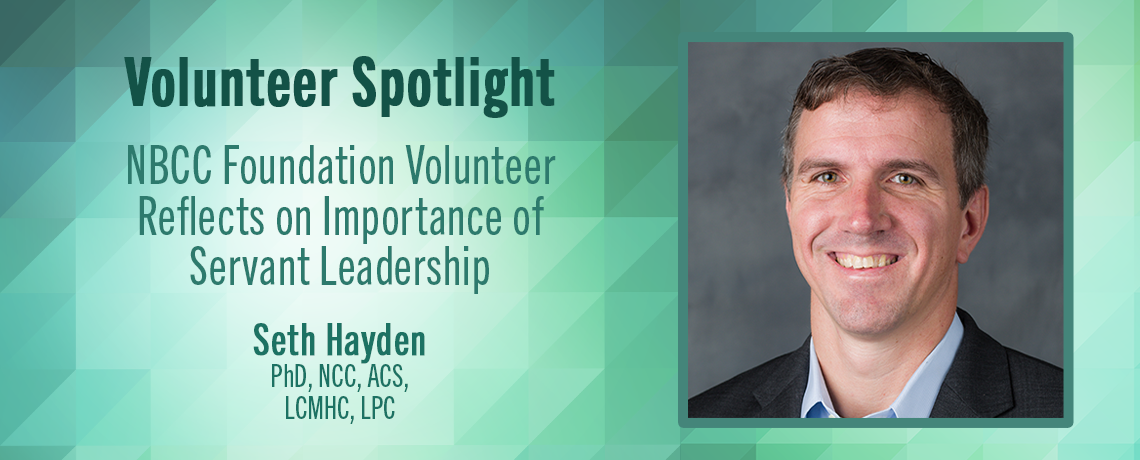 Dr. Seth Hayden's decision to pursue a career in counseling came through encouragement from those who recognized an excellence in his interpersonal communications. "I received a lot of feedback that the field may be a path worthy of consideration," he shares. Dr. Hayden, who has been a longtime volunteer for the NBCC Foundation, holds several certifications and credentials in the profession and has also been a presenter and donor to the organization. His relationship with the Foundation began with an open call for mentors and has continued over the years because of what he describes as the Foundation's focus on the practitioner and his desire to serve and give back to the profession.
Currently, Dr. Hayden serves as a volunteer mentor to NBCC Foundation Military Scholars. His path to working with service members is due in part to his own graduate school mentor, who helped change his career trajectory. He sought out a particular faculty member with questions about a research opportunity, and this mentor took him under his wing. Their research culminated in a presentation on the subject of military service members—a path he admittedly did not consider until they connected. He fondly recalls his mentor, who he had after earning his PhD, as "an accomplished individual genuinely interested in the growth and success of his mentees."
These experiences have led Dr. Hayden to feel a duty to provide the same for counselors-in-training, specifically those providing support and guidance for service members entering the civilian sector. Because of the connection between career concerns and mental health, Dr. Hayden provides career-focused support in a therapeutic environment, allowing individuals to safely explore areas that relate to their career development. He shares, "Career development and mental health are connected in so many ways; mental health challenges will bleed into your career and vice versa." This work led him to apply a clinical and scholarly focus to what this means for counselors as well as study the responsibility they have and possible interventions. His research and publications aim to raise awareness and provide resources and support.

Dr. Hayden has also provided leadership as a part of many professional organizations by serving as the President of the National Career Development Association and as a member of the American Counseling Association's Crisis Task Force. Supporting the professional identity of counselors and the provision of resources for those engaged in this helping profession is an important aspect of Dr. Hayden's work. He shares, "The unique identity of counselors—wellness, prevention, the opportunity to focus on functionality, strengths—I want to build on that."

Along with mentoring, Dr. Hayden works to educate future counselors as an associate professor of counseling at Wake Forest University. He continues to research and present on topics related to military and veteran service members and recently was a co-presenter at the 2021 ACA Virtual Conference on the topic of "Examining Transitional Support Needs of Military Spouses: Implications for Practice." Dr. Hayden is honored to provide information to attendees in these spaces and is committed to the profession by continuing to share information with those who provide mental health services to these and many other underserved populations.

For more information about becoming an NBCC Foundation volunteer or to submit an application, visit NBCCF.org/BeInvolved or email foundation@nbcc.org to connect with staff.

---
Share On Social Media:
---
Read more articles