 Giving Tuesday Scholar and Veteran Bridges the Gap for Service Members and Veterans
Published 11/13/2019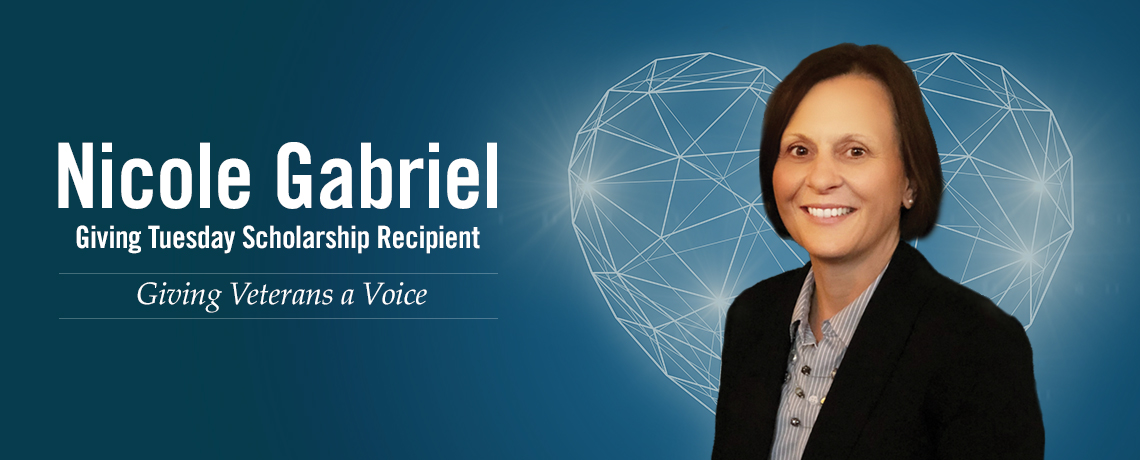 Nicole Gabriel is a 2019 NBCC Foundation Military Scholar recipient who was awarded $8,000 toward her studies thanks to the generous contributions of NBCC Foundation's Giving Tuesday supporters.
As a 27-year military officer, Nicole Gabriel knew she wanted to pursue a master's degree, but she struggled to find the best fit. In 2010, while still a military officer in the Army, Gabriel enrolled in classes at the University of Dayton to pursue a master's degree in school counseling. Her studies, however, were delayed by work and family commitments and then significantly interrupted in 2015 because of a deployment. Upon her return from deployment, she realized her future was heading down a different path. She returned to classes at the University of Dayton, where she talked with a fellow veteran classmate, and Gabriel quickly realized her passion was in pursuing a master's degree in clinical mental health counseling. After talking with this classmate, she said things "just clicked."
Gabriel says she has always had a "knack" for talking with and listening to soldiers, and as an officer, she often was able to help soldiers work through issues and solve problems that she saw others give up on. After retirement, she wanted to find an avenue for using her years of military experience to help others and become a safe place for them to find hope and healing.
Gabriel has found this path through her involvement in the military. As a career military officer, mom of two, and the spouse of a service member, she has dealt with her fair share of the mental, physical, and emotional stressors of military life and service. By eventually speaking up and seeking help for herself, she is now able to empower others to do the same.
Through her decades of service in the military, Gabriel has seen how service members with mental health concerns have been mistreated and stigmatized if they are open about their struggles. She recalls hearing about sexual assault cases in the military community and how victims often refuse counseling services because it brings more alienation and backlash in the military community.
Gabriel has also experienced how she as a veteran can have a positive impact on the community through advocating for increased mental health care for current service members. Gabriel shares, "I saw a critical knowledge gap between the clinical world and the soldier's leadership, and I started to think that if there was someone who understood the clinical side and the leadership side and could help the service member advocate for their needs with their clinician and their leadership, that we might have better clinical results with the service member as well as better unit results." This passion has led Gabriel to begin strategizing ways to advocate to her state legislature for more counseling services from Veterans Affairs in Ohio and Tricare in order to better serve the mental health needs of veterans and service members, respectively.
Gabriel has also become a volunteer veteran mentor at the Ohio Reformatory for Women. She shares that "one's military/veteran identity is something that transcends all aspects of life, even [for] women who are incarcerated." As a mentor in this capacity, Gabriel assists veteran mentees in developing goals and by encouraging them to create a support system to provide a more stable transition out of the criminal justice system.
As Gabriel has personally experienced, military service forever changes a person and their family, whether they've faced years of combat or not. Through her extensive high-ranking military experience, schooling, counseling internships, and volunteer opportunities, she hopes to help veterans and service members better navigate mental health services in order to get much needed help, healing, and hope and to find a "new normal."
Through your contributions this Giving Tuesday, Dec. 3, 2019, you can help support and empower other counseling students like Nicole. We hope you'll consider a donation this Giving Tuesday to help the NBCC Foundation continue to #BridgeTheGap in mental health services for underserved and never-served communities.