 MFP Fellows Participate in Professional Development Opportunities
Published 10/31/2023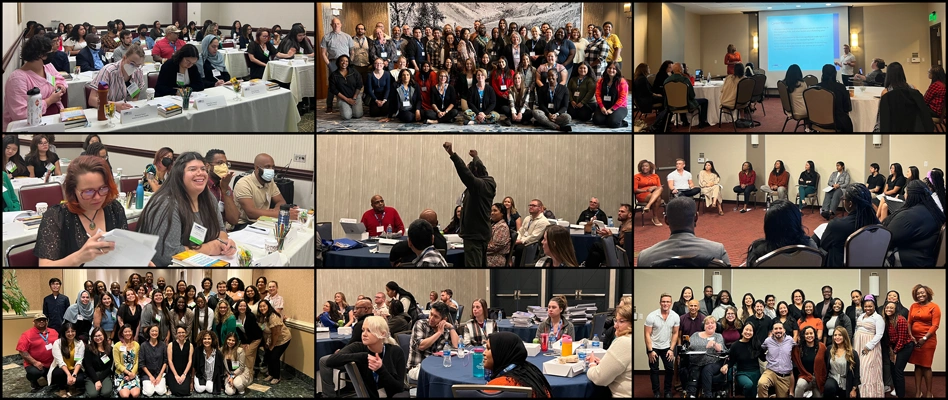 Each year, the NBCC Foundation assembles the current Minority Fellowship Program cohorts at various counseling conferences or trainings. The MFP supports counselors-in-training committed to working with underserved populations by offering funds for their education, networking opportunities, professional development, and selected trainings to enhance their understanding of the counseling profession.
In September, the 2023 Master's Mental Health Counseling Fellows traveled to Greensboro, North Carolina, for the sixth annual Fall Institute training. This 2-day training focuses on Motivational Interviewing (MI) with transition-aged youth, which involves techniques for strengthening a person's motivation and commitment by discussing change and growth with them. Facilitated by Dr. Ed Wahesh, an associate professor in the Education and Counseling Department at Villanova University and member of the Motivational Interviewing Network of Trainers, the Master's Fellows learned about the MI spirit, the four tasks of MI, and core MI skills. They also participated in group experiential learning activities to apply the newly learned skills in their work using an MI-oriented approach. These skills will allow the Fellows to expand the services they offer to their clients.
October saw the 2023 MFP Addictions Counseling (MFP-AC) Fellows gather at the 2023 NAADAC, the Association for Addiction Professionals annual conference. With this being only their second time together in person, this was a special bonding experience. They were able to catch up with each other, discuss how they were faring with their classes, and network with NAADAC leadership and addiction professionals from around the nation. Up to 22.75 continuing education hours were available for Fellows during the main conference, while 28 of the 46 attended a pre-conference session for an additional 7 continuing education hours.
"Providing our MFP-AC Fellows the opportunity to attend a conference dedicated to their work in addiction counseling is important to the Foundation. We want them to engage in professional development events that can transform their work as counselors," said Isabel Gomez, Vice President of the Foundation and Professional Resources Division of NBCC and Affiliates.
Also in October, the 2023 MFP Doctoral Fellows attended the Association for Counselor Education and Supervision (ACES) conference. Before the conference began, the Foundation hosted a half-day training for the Fellows facilitated by MFP alumni and current MFP Advisory Council Members Drs. Clark Ausloos and Letitia Browne-James. Their presentation, Charting Your Course: A Comprehensive Guide to Career Growth in Counseling, was tailored to lead the Fellows to begin thinking about their future employment and career development in counseling. At a time when many Fellows are thinking about and taking on leadership roles, they also focused on how to cultivate their influence to emerge as leaders in counseling organizations. The Fellows also enjoyed more information about leadership and various aspects of counselor education and supervision during the conference.
The NBCC Foundation offers these opportunities with the support of the Minority Fellowship Program, but it's the Fellows that make the time spent at these events more meaningful. "We are in awe of the hard work and resiliency of our Fellows. Their dedication to expanding the counseling profession to underrepresented and underserved populations is what the NBCC Foundation aims for, and we are proud of what our Fellows accomplish," said Gomez.
To learn more about the 2023 NBCC MFP Fellows, visit nbccf.org/programs/fellows.